Conference Information for 2017
---
ALAK (The Applied Linguistics Association of Korea) International Conference @ 9 September 2017 (Sat) 2017


"Broadening the scope of language learning and teaching"

venue: Seoul National University of Education, Seoul

For more information on plenary speakers, conference program and map, please visit the website


http://www.alak.or.kr/

Conference Information for 2016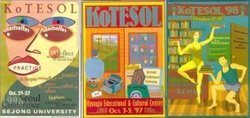 Conference Information for 2015
Here are some information for upcoming conferences related to our professional studies and careers. You may check and have a chance to attend there in order to get global up-to-date news of TESOL.
KATE International Conference @ 3-4 July
MESSO International Conference @ 9 Aug
Call for Papers by 10th February 2015
http://www.meeso.or.kr/
"Building Blocks of English Teacher Training: Policy and Professionalism "
Guest Speakers
Dr. Thomas Farrell (Brock University, Canada)
Dr. Emiko Yukawa (Ritsumeikan University, Japan)
Dr. Yin Ling Cheung (Nanyang Technological University, Singapore)
Dr. Xiaotang Cheng (Beiging Normal University, China
If you have any inquiry regarding this matter, please send email to
meesocon15@gmail.com
You need to send the summary and title of yours in English with approximately 200 words if you want to apply.
ALAK International Conference @ 19 Sep
CALL for PRESENTATIONS
Invited Speaker
Claire Kramsch - University of California, Berkeley, USA
Farzad Sharifian - Monash University, Australia
Kilryong Lee - Hankuk University of Foreign Studies, Korea
More Speakers from JACET (Japan), Thai TESOL (Thailand), TEFLIN (Indonesia)
For More Information
http://www.alak.or.kr/
---
PKETA & GETA Joint International Conference @ 17 Oct

CALL for PRESENTATIONS


---